Firstly this is Not a buy recommendation to jump in asap please.
Only a small share analysis of a fundamentally strong group to watch out for , to the patient long term investor.
Notes :
1) All ACL company's subsidiaries are engaged in businesses either directly or indirectly related to the cable industry.
2) ACL group controls about 70% of local cable market. Other players are SIerra Cables, Ruhunu Cables, KM cables
3) ACL also exports to India, UAE , Maldives etc
ACL sectors to cater to :
Construction, power, telecom which all has future potential
Challenges :
1) PVC and Copper price ( The world copper prices have been rather stable this year. Actually it also reduced by a small amount. )
2) Energy costs
3) Contacts based Institutional sales and overhead in getting payments ( CEB is main customer)
4) competition
Group structure :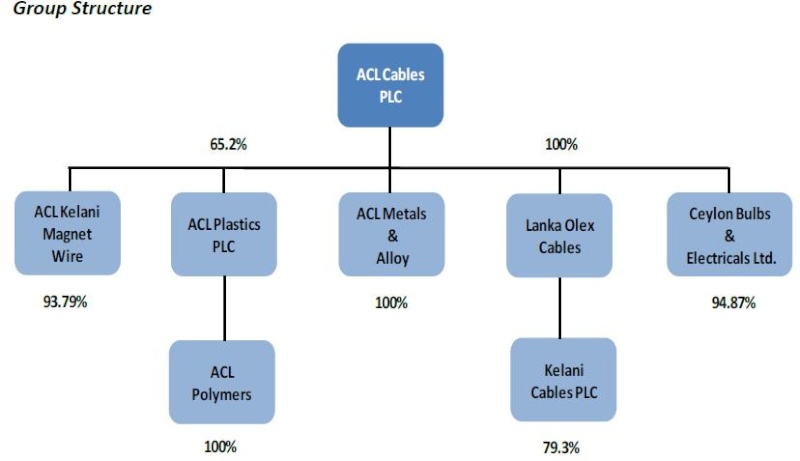 ACL :
Shares : 59.89 Million.
2012 Yearly drop : From around Rs 74.
Today price : Rs 54
Nav : 74.78
PBV: 0.65
EPS ( yearly) : 8.53
PE: 6
Description ( From BusinesWeek):
ACL Cables PLC engages in the manufacture and sale of cables and conductors primarily in Sri Lanka, as well as internationally. Its products include house and building wires for wiring of houses/commercial building, and distribution of electricity within factories; flexible cords and cables; armoured and unarmoured power cables for distribution of electricity within cities, factories, and buildings; control and earth wires with flexible conductors; and switch gear cables. The company's products also comprise XLPE insulated aerial bundled cables for rural and semi-urban low voltage distribution of electricity; control cables; and fire rated cables, such as flame retardant cables, fire retardant and low smoke cables, and flame retardant low smoke and halogen free cables. In addition, ACL Cables offers bare conductors, including aluminum conductors, aluminum alloy conductors, and steel reinforced aluminum conductors for low, medium, and high voltage electricity, transmission, and distribution. Further, it provides instrumentation cables, telephone cables, auto cables, antenna cables, enameled winding wires, and cable grade PVC compounds, as well as involves in trading activities. The company was formerly known as Associated Cables Ltd and changed its name to ACL Cables PLC in 1990. ACL Cables PLC was founded in 1962

KCAB :
Shares : 21.8 Million.
2012Yearly drop : From Rs 80-85
Today price: Rs 70
Nav : 87
PBV: 0.7
EPS ( yearly) : 13.04
PE: 5.5
Description ( From BusinessWeek)
Kelani Cables PLC manufactures and sells power cables, telecommunication cables, and enameled winding wires in Sri Lanka. The company's products comprise various cables, such as Ariel bundled, iron lead and boat, lead free submersible pump, telephone, control, instrumentation, armored and unarmored power, auto, coaxial and data, and welding cables, as well as TV down leads, house and building wires, flexible cords, bare conductors, and overhead lines. It serves government departments, local contractors, builders, board of investment approved companies, and dealers. The company exports its products to India, Maldives, and Bangladesh. The company was formerly known as Ceylon Non-Ferrous Metal Industries Limited and changed its name to Kelani Cables PLC in December 1973. Kelani Cables PLC was founded in 1967 and is based in Kelaniya, Sri Lanka. Kelani Cables PLC is a subsidiary of Lanka Olex Cables (Private) Limited.
APLA :
Shares : 4.21 Million.
2012 Yearly drop : From around Rs 125
Today price : Rs 85
Nav : 122.
PBV: 0.68
EPS ( yearly) : 13.3
PE: 6
Observation note : Last year dividend : Rs 5.25 . A dividend might be due within the next months.If dividend is around Rs 5 then yield is about 6%. APLA is illiquid with smaller number of shares in the market and can run quicker along with KCAB if there is any group run in the future . From time to time A
PLA and KCAB can move a little also
Description ( From Business Week)
ACL Plastics PLC manufactures, deals, and markets cable grade PVC compounds primarily in Sri Lanka. It offers its products for use in the sheathing and insulation of electric cables. The company was founded in 1991 and is based in Colombo, Sri Lanka. ACL Plastics PLC is a subsidiary of ACL Cables PLC.
Sources : Annual Reports, Capital Alliance Research etc

slstock

Research Author




Posts

: 15


Reputation

: 17




---
Permissions in this forum:
You
cannot
reply to topics in this forum